---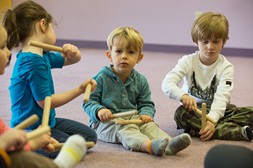 ABOUT KINDERMUSIK
With more than 35 years of experience as the leader in musical learning, Kindermusik International understands music's unique ability to impact children (and families!) in profound ways. Across private studios, public schools, and childcare centers in over 70 countries, children, parents, and teachers enjoy participating in Kindermusik's fun, developmentally specific, and research-based music and movement classes. Parents also appreciate how enrollment in Kindermusik includes home materials, including their favorite songs, stories, and learning activities from class, so families can "play" Kindermusik wherever they go.
As a trained and licensed local Kindermusik educator, I love bringing the world of Kindermusik to our community! Each week in my Kindermusik studio, I lead music classes for families filled with singing, dancing, laughing, instrument playing, and storytelling—all backed by Kindermusik International's team of early childhood music experts and the latest research on how children learn best. In addition, I partner with parents to support their role as a child's first and best teacher by providing tools, tips, and resources to understand how (and why!) to use music and movement throughout the week.
From Kindermusik's early childhood music classes around the world to the loving local community of families at my studio, together we put a song in the hearts of children.
Come experience for yourself why more than 2 million families in over 70 countries love Kindermusik. Try a class in my studio today!
Ocean Strings Studio is a strings (violin/viola) based music studio that focuses on early childhood music education in Vero Beach and Indian River County. Our research shows that there are a lot of young, educated families in the area and there are a limited amount of music education resources for them. In our studio, in addition to private and group instruction on strings we will be offering the Kindermusik program, which is a research-backed, licensed curricula. Kindermusik classes will be offered for families with children, from newborns to five-year-olds.
We will start by offering Cuddle & Bounce (infant) and Wiggle & Grow (toddler) curricula. As our student body grows, we will add Laugh & Learn (preschooler) Sing & Play (older baby) and Move & Groove (older preschooler) classes based on demand. This educational continuum will give us an advantage in many ways over our competitors, among them are building life skills from the very beginning stages, communicating, self confidence, strengthening the parent/child bond etc. all in a positive, socially stimulating environment.
We are proud to offer Kindermusik as an integral part of our studio as we want to encourage as many children as possible to begin and sustain a lifelong love of music! Transitioning from Kindermusik classes to studio strings or any other instrument is something we highly encourage as part of the successful method of educating the "whole child".